A dear friend recently scanned in lots of pictures she had in albums, and this got me wishing I could a) find my pictures, and b) scan and clean them up for posterity. I've got several VHS tapes that need the same attention.
When cleaning out the garage a few weeks ago, I found some pictures I've been thinking about for a long time. To my delight, they were all together in one little package. I scanned them at work the other day. They still need cleaning up, but I was so happy to see them again it doesn't matter, for the moment. There are more photos, but these were in the little found bundle.
They don't do the experience any justice, mind you, they're just inexperienced shots taken in 1993. But they mean so much:
Side street, Arles - I didn't live in Arles, but went through on my 'pilgrimage' to Les Saintes Maries de la Mer (pictures that need to be scanned) and the tomb of the Maries, home of Saint Sara la Kali and pilgrimage sight of the Romani.
Arles is where Van Gogh had his famous studio, where he painted his Sunflowers. When I lived in the area, a large exhibit was being presented where hundreds of school children painted their versions of his Sunflower paintings - they were hung all over the outside of the building.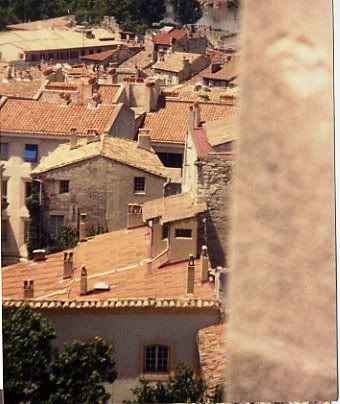 There was a lovely (and very peaceful) view from the apartment I shared in Avignon. I didn't live here very long, only two weeks, as I was waiting for my new job to start. The placement firm allowed me to live in a little apartment they had in their offices. As long as I stayed out of sight during business hours, I could stay rent-free. Not a problem. :)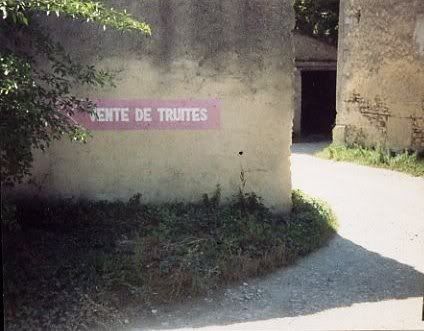 A place very near and dear to my heart. I lived in Isle sur la Sorgue, a famous Provencal market and antiques town. The family I worked for (family helper, artist assistant) owned a compound. The extended family lived and worked here together. They sold trout and goat cheese to the public.
I miss them a lot sometimes.
Milou, one of the many dogs who lived on the property. These are the canals where the trout were farmed, and the tracks are for the wagons that carried the fish out into 'other places.' ;) When a canal was cleaned (both of fish and of dirt), all the kids (including me, the 25 year old kid) were told what canal number was open and we could swim in it until late afternoon (or until our lips turned blue, whichever came first). In 110 degree heat, it was HEAVEN to hear the kids run by the house screaming 'HUIT! HUIT!' or some such number.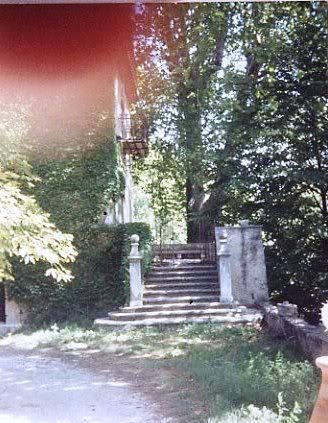 Wow, great photography skills, I tell you. :P
Anyway, this is where I get a little misty, as I have two pictures of the house where I lived. Here is the entrance way, and it is in every way perfect to the memory I hold of it. Whenever I walked up that staircase, I felt taller, sager.
Anyway, underneath these steps, and under part of the house, ran a lovely creek. It provided not only fresh water but a very cool and very accommodating cellar for the incredible goat cheeses made there.
Wish it were clearer, but maybe when I work on all of these I can clean and enlarge them as well. I loved working with these goats. They made the most wonderful goat cheese, flavored with the blackberries they ate all day.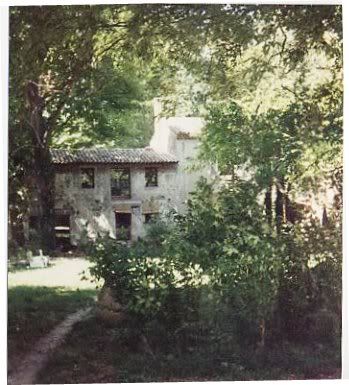 OH this picture brings back so many good memories. I smile as I look at it. My room was the top right hand window.
I must get this one framed.